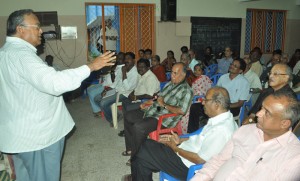 R. A. Puram residents are pushing for a mobilisation of local support as a community by asking residents to share their e-mails and contact phone numbers so that local information can be shared.
Hence, the Raja Annamalaipuram Residents Association (RAPRA) have put these two email IDs to contact – chan.rao@gmail.com and kanch52@yahoo.com.
This networking, say its leaders has helped generate better co operation.
Last weekend ( July 6), this community held its quarterly meet at a local school in the presence of civic officers and the local ward councillor Jhansirani.
Some issues that were raised included getting rid of condemned vehicles dumped on 3rd Cross Road, stopping misuse of pavements opposite Sangeetha Restaurant and pollution of Metrowater that is piped to homes here, with sewage in 2nd Cross Road area.
The Association is also asking Chennai Corporation to build a community hall inside the park campus on 7th Main Road.
The group also honoured senior A. Arthanari on this occasion.
The President is P R Subramaniam and G Ramkumar is the secretary – 24358203.