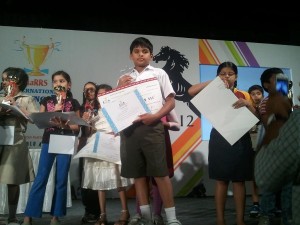 Rahul Ayyappan Harish , a class IV student at Vidya Mandir Senior Secondary School , Mylapore was awarded the title of 'Budding Star' for his commendable performance in the MaRRS International Spelling Bee Competition held recently.
MaRRS Intellectual Services Pvt. Ltd. has been conducting the MaRRS International Spelling Bee Competition every year for school students in various categories.
The competition is conducted at various levels starting from the school level moving on to interschool, state , national and finally international level. It includes various written rounds and oral rounds.
The international finals of the MaRRS International Championship finals for 2011 – 12 was conducted at Bangalore on June 29 and 30, 2013 in which about 200 odd children from across the country and abroad participated.
Rahul joined others at the championships and excelled.
He is the son of Dr. A. Harish Somasundaram of the BBS Hospitals, Mandaveli.
He resides at 22, Bishop Garden, Greenways Road, R. A. Puram, Chennai.