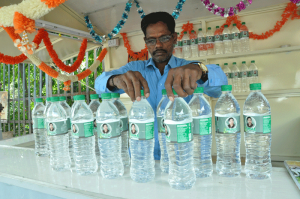 The newly-introduced ' Amma' brand of drinking water is a hot-seller at all the local bunks where it is no sold.
Launched by chief minister J Jayalalithaa recently, this bottled water is sold at Rs.10 a bottle and managed by Metrowater at a place in Gummidipoondi.
All stocks were sold out last Sunday when the launch took place and sales have been strong at three bunks that sell it in the Mylapore area – alongside the Sri Kapali Temple tank ( west side, near MTC bus stands), and at the MTC bus termini at Mandaveli and in Foreshore Estate.