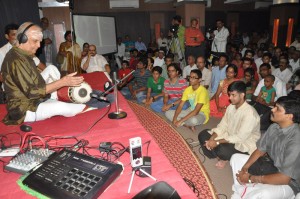 Mridangam vidwan Patri Satish Kumar is hosting the Patri Drum Fest this weekend at Arkay Centre in Luz. The fest features topend percussionists on stage and the concerts are focussed on their performance.
Vidwan Umayalpuram K Sivaraman opened the show on Friday evening and performed later. ( seen in the photo ).
Dr T V Gopalakrishnan was on stage on Saturday evening after tavil vidwan S R Govindarajan presented his recital.
TVG, as friends call this senior guru went on a nostalgia trip even as he stunned the packed house with his demos on the mridangam that gave rasikas a feel of the styles of past mridangam greats.