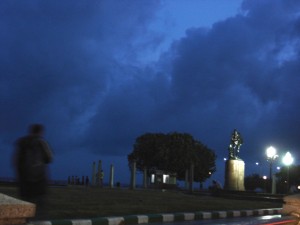 Rain has been beating down on the neighbourhood since this morning following a monsoon cyclonic weather alert. Though the rain was thin and fell in parts in the morning, it was steady and full since afternoon.
Lowlying roads began to flood and such scenes could be seen in Kamaraj Salai in R A Puram and in one end of C P Ramaswamy Road. In some other parts the water ran off into the drains.
But life got a bit messy in Sriram Nagar and adjoining areas of Alwarpet where Chennai Corporation has begun work to remove the tar roads and have cement roads in these places.
The sidewalks area has been dug up and the muddy surface poses problems.
The photo featured here is of the skyscape over the Marina on Saturday evening.