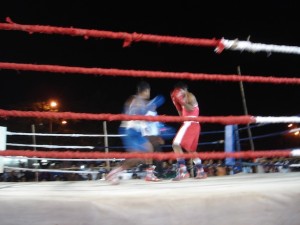 This was an unusual sight. Motorists negotiating the junction of R K Mutt Road and Bro. D G S Dhinakaran Road in R A Puram saw some action going on in the Chennai Corporation. Boxing matches being held in one corner of the playground.
For two days on the weekend last, boxing matches were held under the banner of a private boxing club for junior and senior boxers at various levels.
A boxing ring was set up under floodlights and matches were held after dusk. However though a few simple rules were being followed, one organizer said that they did have a medical facility to deal with emergencies but none of the boxers wore headgear.
The organizer said that the club was holding a series of boxing contests in the city and outside to popularize the sport.
This ground is home to footballers who practice here and neighborhood teens enjoy games of cricket.