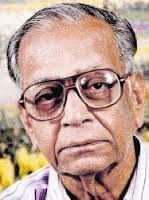 The grand old man of the sabhas world of this city, R Rajagopal passed away on Sunday at his home in Abhiramapuram. He was 88 and was ailing from old age health problems for some years and was not seen at any of the events hosted by the sabha he founded, Kartik Fine Arts.
Rajagopal will be remembered for his strong support of the amateur Tamil theatre community and the many steps he took to encourage talent.
All of them, from K Balachander to Cho Ramaswamy found a platform on the stage at Mylapore Fine Arts Club on Oliver Road ( now Musuri Subramaniam Road) the sabha he founded first. Legion are the stories of  Rajagopal going that extra mile or taking a grave risk to ensure a play was on or an actor got a break or a push.
He founded Kartik Fine Arts after breaking away from MFAC which is still in existence and make the new sabha a hyperactive one. But dream was much a part of its agenda. The Kodai Natak Vizha which is held at this time of the year was a trend setter which many sabhas followed.
Kartik did not own a premises and hired different spaces in Mylapore and outside to host its concerts, plays and events. Rajagopal led a small band of his sabha team to keep they sabha ticking and moved out only when health and age did not permit him to pursue his passion.
The funeral took place on Sunday evening in T. Nagar. He is survived by his son Sekar who is now the sabha secretary and a daughter who lives in Bangalore.
Contact Sekar at 9840326022 / 24997788.