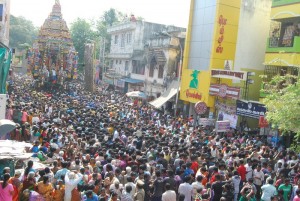 The core area of Mylapore, the area round Sri Kapali Temple and tank has turned into a festival zone in connection with the key events of the annual Panguni festival that began this morning.
Hence, the main R K Mutt Road and the mada veedhis are off bounds for vehicles today and tomorrow, when the Arbathumoovar procession takes place.
The ther began to roll at about 9 a.m. and will take many hours as it rolls down the veedhis and gets back to the temple zone after dusk.
There is an air of religious festivity in this area as people walk down to the ther from all sides and devotees from elsewhere make their journeys to the ther.
The streams of devotees will be far bigger on Friday when the Arbathumoovar procession starts at about 3 p.m. and ends only after dusk.
MTC bus services are being diverted.