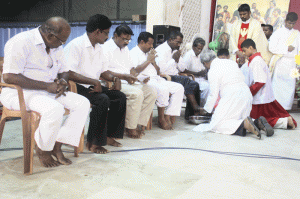 Local churches have begun holding Holy Week services that commemorate the events leading to the death of Jesus on the cross and ending with his resurrection on Easter Sunday.
On Thursday, the services began this evening with two symbolic parts of the religious services – the washing of the feet of a set of lay people by the priest and the celebration of the Eucharist.
At the St. Thomas Cathedral in San Thome, a English service began at 5 p.m. and a Tamil service starts at 6.30 p.m.
Later and through Friday, people will spend time in churches in prayer and reflection.
Good Friday services are stark and simple, commemorating the death of Jesus. It is a day for fasting and prayer. In some churches, a dramatised prayer and service is held.
The solemnity continues into Saturday and ends with Easter vigil services on saturday night and on Sunday morning.