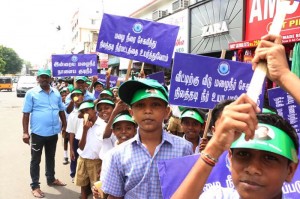 Now that the state is keen to promote rainwater harvesting (RWH), Chennai Corporation has got into the act by asking schools to organise short rallies in the neighbourhood. This morning,  a group of students of P. S. Hr. Secondary School, Mylapore took out a rally through the mada veedhis around Sri Kapali Temple, carrying placards on RWH.
Earlier, a group from Sivaswami Kalalaya school had done the same in that area of Mylapore.
M. P. Anandh Matriculation Higher Secondary School at CIT Colony organised a rally on June 14 to raise public awareness about rain water harvesting.
The school said about 150 students from classes 7, 8 and 9 participated in the rally which was inaugurated by writer Indumathi. The principal Amudha Anandh says, "The rain water harvesting system at our school was installed six years ago and we continue to reap the benefits of the system. I think that the Corporation must take extra efforts to implement this system on the roads. Every time it rains, the water stagnates on the road and this can be avoided".
The school is located at No. 10, First Link Street, CIT Colony, Mylapore. Ph: 24991923