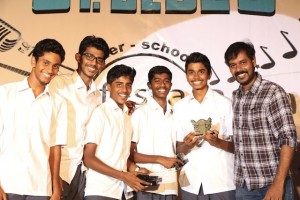 The season for inter-school cultural festivals in our neighborhood campuses is still on, and at a good pace and in high spirits. Last week, St Bede's Anglo Indian Hr Sec. School played host to a festival.
The San Thome campus, which now also houses St Bede's CBSE school may have looked ordinary from the outside but once you stepped into the corridors, small and large halls resounded to music, cheers, exchanges and small talk in the middle of creative pursuits.
The most colorful scene was at the flowers and kola design contest where teams took time to show off their ideas. The buzz though created by the school's junior students who gathered to watch airplanes and helicopter do some sorties in the air from the remote-controlled devices. A host of contests – from music and dance, to Ad Zap and theatrics – were held.
The most popular show, said participants was the Popular Dance Contest at which teams, dressed in costumes danced to pop film songs in the big auditorium. It got the audience swinging and teams on the edge.