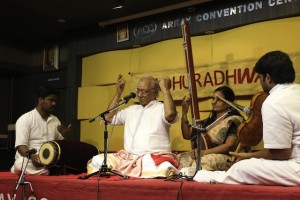 Madhuradhwani, a private body for the promotion of the performing arts  celebrated its second anniversary with two back-to-back concerts last weekend at the Arkay Centre in Luz. One of them featured the Sangita Kalanidhi award-designate T. V. Gopalakrishnan who presented a vocal concert.
This body is promoted by stock broker Ramakrishnan and was inaugurated on Oct 25, 2012 to promote south Indian classical music in particular and other forms of art in general.
Since Ramakrishnan also created the Arkay Convention Center in a building located next to Bombay Halwa House in Luz ( Royapettah High Road) organizing music concerts and  lec-dems was easy.
But he has gone beyond music by featuring talks on music, dance, architecture and literature.
Says Ramakrishnan, "When we started, we thought of hosting two concerts a month and one lec dem in alternative months. However the first year saw 52 concerts and 16 lec-dems, while following year we have done 64 concerts and 22 lec-dems. The entire funding is from the revenue generated from the centre."
He says promotion of young talent and instrumental classical music is given priority.