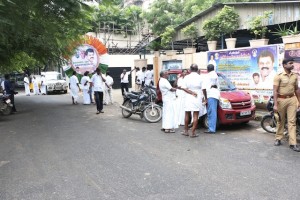 The upheaval in the Tamil Nadu unit of the Congress (I) political party is setting off buzz in the Alwarpet neighborhood. As former union minister and Congress leader G K Vasan made public his and his followers' decision to part ways with the Congress and chart their own course his supporters began to gather at his office cum residence on Ashoka Road, a inner street that runs into C V Raman Road in Alwarpet.
The rumblings in the local Congress unit has been on for sometime and they came into the open after its chief Gnanadesikan who also lives in this area resigned from his post.
It appears now G K Vasan and company will restart a party that Vasan;s father G K Moopanar had started when he parted ways from the Congress. That party later rejoined the Congress.