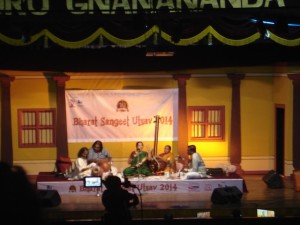 The skies were grey, the rain was intermittent and condition of the roads bad. But this did not stop Carnatic music rasikas from crowding into the campus of Narada Gana Sabha on TTK Road Alwarpet on Sunday evening. Their intention – to catch the concert of the well known vocalist Aruna Sairam.
The concert was to start at 4.45 p.m. and the auditorium was packed an hour before it began, people filing in even as the early afternoon recital was on.
Aruna Sairam who lives in Alwarpet has taken  long break from her concert life due to personal reasons – she did not perform even during the 2013 December music season.
So there was great anticipation for her recital on Sunday evening and she did not seem to have disappointed the audience. In fact, the stream of requests at the fag end let the concert go on till past 7 p.m.
The concert was part of the annual Bharat Sangeet Utsav hosted by Carnatica which features Carnatic and Hindustani music, light music and dance.