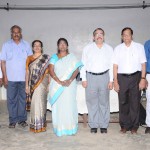 Vidya Mandir Alumni Association has been providing medical insurance for teachers under the Group Medical Insurance Scheme for more than 10 years.
In this regard, a presentation on the Group Medical Insurance Scheme was organised on Dec 23 at Vidya Mandir, Mylapore. Many teachers – both retired and current, attended this presentation.
Questions about the benefits under the scheme and the procedures to be followed by the insured were clarified by the insurance company/Heritage TPA. Dr. Sandeep from Seethapathi Clinic provided details on health initiatives.