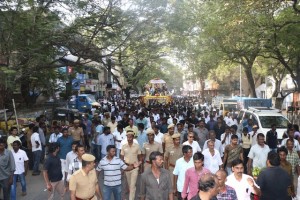 One of India's well known film makers, K. Balachander passed away on December 23 evening from age-related problems. He was 84 and was a longtime resident of Warren Road having shifted here from Gopalapuram.
Decorated with India's highest award for a film maker, the Dadasaheb Phalke Award, and by the Padma Shri Balachander was an icon known for making films that focussed on middle class south Indian families, their mores and conflicts and on women who had minds of their own but struggled against a conservative community.
He made a name for himself by directing Tamil plays while he was still working for the Accountant General's office – the issues he dealt with here became the talk of all drama enthusiasts.
He made his debut as a film director in 1965 with 'Neerkumizhi' and was worked in the film industry for over five decades – as actor, scriptwriter, director and producer, involved in over 100 films in one capacity or the other. He also made films in Telugu and Hindi, with Ek Dhuje ke Liye being a big hit ( it was a remake of his Telugu film hit, Maro Charitra).
KB as he was popularly known moulded the careers of many actors the famed among them being Kamalhassan and Rajinikant, Sujatha and Nagesh, Manorama, Vivek and Prakash Raj and many others.
He was a hard task master, a no-nonsense man at work. He was also known for not being taken in by the stars; he did well in an era ruled by actors MGR and Sivaji Ganesan.
From Avargal  and Aval Oru Thodarkathai to Sindhu Bhairavi and Manmadha Leelai, Balachander's films looked at middle class Indians – their frailties, orthodoxies and contradictions. And women were at the core.
He also headed Kavithalaya, his production house which made films and TV serials. Jannal and Anni were some of the long-running serials. He worked on serials to cater to a larger audience.
In August, his son Kailasam who ran his own production company passed away suddenly and this seems to have affected him. He is bereaved by his wife, a daughter and a son.
The entire film community and fans paid their respects at the KB residence and later took part in the funeral procession on Wednesday evening. The cremation was held at the Besant Nagar crematorium.