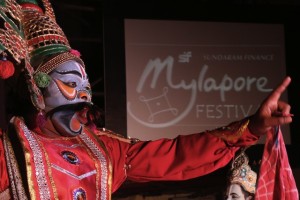 The final show of the annual Mylapore Festival on Sunday night, a kattaikoothu performance by a troupe from Cheyyar in Kanchipuram district almost created the atmosphere that exists when koothu is performed in the villages and small towns.
The show, the second of the two-part series was on ' Krishna Thoodhu' and the artistes preferred to use the low stage and perform in the centre of the Sannidhi Street square.
Towards the end, the artistes took a hundi around to invite donations. One patron shared a big sum. The informality of the troupe at the end endeared the artistes to the audience of about 250 people.
Koothu has been a regular feature of this festival, which began on Jan.8 and ended on Jan.11.