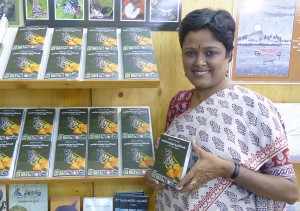 A field guide book on butterflies in Tamil (Arimugak kaiyedu -Vannathuppoochigal) written by Dr. R. Bhanumathi and published by CreA was released in the city recently.
The book, the first edition of its kind in Tamil covers 90 species of butterflies representing 5 families commonly seen across different habitats in Tamil Nadu and has 230 photographs. Common names, scientific names and family names are given in English along with Tamil names.
Bhanumathi, a resident of Alwarpet, travelled to several forests in India to observe different eco – systems and the diversity of life forms. The book is a result of this two year learning through the lens (LTL) project. She says, "I worked as an education and project officer at World Wide Fund for Nature (WWF-I) for 15 years and this gave me the confidence to explore forests and understand biodiversity".
Puppetry interests her too. She currently holds a Ph.D in puppetry and conducts several workshops in India and abroad.
Copies of the book can be acquired at 2, First Floor, 17th East Street, Kamarajar Nagar, Thiruvanmiyur. The author can be reached at 7299905950.