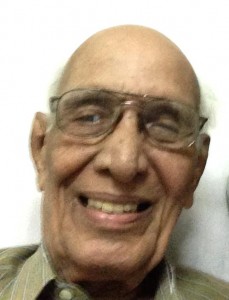 Well-known cartoonist who went by the signature name of Gopulu passed away on April 29. He was a resident of R. A. Puram and was 91 years old. He is survived by his son.
He was counted among the greats in his profession – Maniam, Shilpi, S. Rajam and Madhavan included in that, for his range of illustrations which accompanied short stories and novels. The novels included the popular Thillana Mohanambal and Washingtonil Thirumanam.
He was also an accomplished cartoonist, focusing on the politics of his time and inspired by the English greats like David Low.
Gopalan studied art at the Govt. College of Art at Kumbakonam and went on to work for the Ananda Vikatan, the leading Tamil magazine for over two decades.
After retirement, he freelanced and ran his own advertising agency.  He was down after suffering a stroke but continued his work after recovery.
Said cartoonist-artist Keshav of The Hindu, " His body of work is vast and amazing. from cartoons, illustrations, water colors and adverts. I will rank him very high in the country."
The funeral was scheduled for Thursday noontime.
Photo courtesy; Keshav