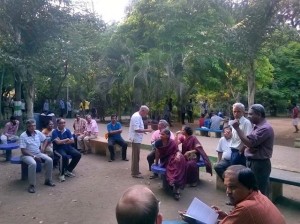 More and more Mylaporeans who are concerned and wish to do some thing about civic issues are joining an informal association which hopes to formalize itself soon. Last Sunday's meet at Nageswara Rao Park saw more people join the group which was formed some weeks ago.
The subjects and the views expressed at this meet were varied and covered hawking, mada streets regulations, walk only plans, involving schools and more.
Some members said it would help to focus on small projects, accomplish results and move to bigger ones. Some said that local police do not seem to be community-friendly and it is hard to work along side them while Chennai Corporation wants to work with people and it would be easier to join hands with the civic body.
For now, the focus seems to be on the Mylapore mada streets zone.
Here are some photos – https://www.facebook.com/MylaporeResidentsAssociation
Keen to join this group? Call – 9790957208