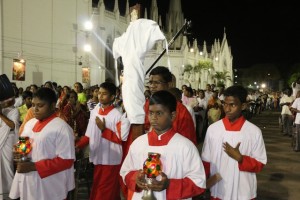 Over two thousand people gathered in the campus of the St Thomas Cathedral in San Thome this evening for the open air Mass in Tamil to mark Good Friday, the day Christians recall the crucifixion and death of Jesus. The service was a long one, with symbolic genuflection in front of crucifixes by the congregation and Holy Communion.
The final Way of the Cross service was also held, with children enacting roles on the events related to Jesus' last days.
The service was beamed live by Madha TV. A sound and light show on today's commemoration was also scheduled here.
Earlier, the English service was held in the cathedral, starting 3 p.m.
Late night services on Saturday mark the Easter eve celebration of Jesus resurrection.