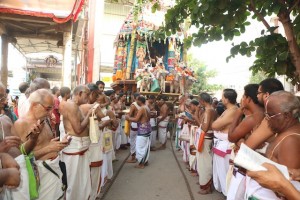 As part of the ongoing bramhotsavam at Sri Madhava Perumal Temple in Mylapore, lanai (elephant) vahanam procession was held on May 16 evening. The main deity in the procession was Sri Madhava Perumal. The procession started at 8 p.m. and a few hundred people took part in it.
The deity was beautifully decorated with flowers. Children of the neighbourhood burst crackers as the procession made its way through the narrow streets. About 20 men carried the vahanam on their shoulders.
This morning, Sunday the chariot of the gods was taken out in procession. Lots of priests and local people took part – reciting prayers and pulling the chariot.
For details contact the temple office at 24985112.
– Report by Vagadeeshwar Ganesan