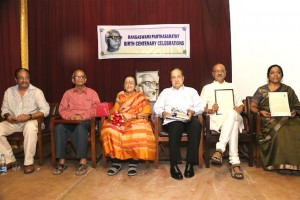 The community gathered on Sunday evening at Raga Sudha hall in Luz must have been just over one hundred people but they were here with a  purpose – to celebrate the life and work of one of the city's senior journalists, 'Mail' Rangaswamy Parthasarathy who worked for The Hindu for over 40 years.
They were here to mark his centenary and it was an event hosted by his family – his wife, three children and seven grand-children. They were here from all over. And though the event was simple it was warm and typically south Indian, ending with tiffin.
The man who got into journalism accidentally, served for a few years in the city eveninger, The Mail and then joined The Hindu at the desk and rose to become news editor is now famously known for  writing a book that traces the newspaper's 100 year old history against the backdrop of India's development.
He was said to be quiet and unassuming, professional and keen in all kinds of subjects and though he was an atheist he went on write a few books on spiritualism too.
The R. A. Puram-based family, among the area's early settlers chose to institute an award to mark this occasion – it was given to former Ed-in-chief of The Indian Express, Shekar Gupta – and instituted five scholarships to be given to students who are admitted to Asian College of Journalism.
Shekar, who was given a cheque as part of the award also chose to institute a scholarship as his contribution. He said he would prefer it being given to a  student from the North East tribal communities.
The chief guests on the occasion were chairman of Kasturi & Sons, N. Ram and Ms Y. G. Parthasarathy, founder-head of PSBB schools.
Said Krishna Kumar, a grandson of Parthasarathy who was instrumental in putting together this event, "Though it was hurriedly planned we hope to sit down, maybe form a Trust and plan ahead."