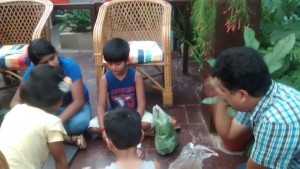 Gardening is an important life skill that is not taught in schools. Recently, a workshop on Organic Terrace Gardening was held in Ashvita Bistro in Alwarpet. It was presented by garden enthusiast Harish.
The session was meant for all children above 5 years and held for 2 hours. 45 children participated in this event. We were warmly greeted with a welcome drink followed by self introduction by the participants.
Harish first gave a brief introduction on soil and this was followed by an awareness on soil pollution. He then told us about the different ways of plant reproduction. After a while, various plants with their functions were demonstrated.
To sum up the important points that we took back were:
1) Patience is the key ingredient for gardening. We need to wait for a plant to grow.
2) Plants should be watered in the evenings.
3) Organic manure is recommended over pesticides and chemical fertilizers.
4) Plants need sunlight to grow and nurture.
In the end, we got to sow a seed or two each in a pot which is to be watered and taken home as a souvenir.
Ashvita is hosting many such events. So, be on the lookout for info on its Facebook page – Ashvita | Events or contact Munira at 979109 8189
– Report, photo by Ananth Ram / Trainee Reporter