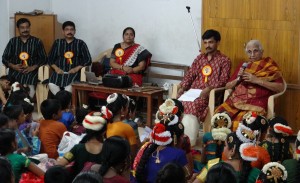 The Mylapore trio of Sri Sumukhi Rajasekharan Memorial Foundation conducted the 110th Month "Kala Poshakam" programme recently. A unique event called 'Veettu Vaidhiyam – paati mudhal peran varai' (homely medicinal tips through generations) was organised as a part of the programme. The idea was presented by septuagenarian Meenakshi and dancer and journalist Suganthan.
Meenakshi gave home remedial tips for more than a dozen common ailments and also answered questions on the curative and healing aspects of herbs, spices, fruits and vegetables. Suganthan talked about how to treat eye and stomach disorders, hair fall, diarrhoea and several other problems naturally.
More than 100 people comprising children, middle aged women and senior citizens attended this event.
The trio can be reached at srimylaporetrio@gmail.com.