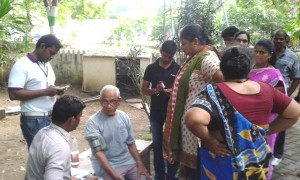 Nageswara Rao Park in Luz is surely the green hub for fitness buffs in the mornings. Hundreds of people head there for their daily drive. But increasingly, a whole variety of salespeople who offer medical tips and services, health shots and smart accessories are invading this leafy public space.

Their target – seniors, walkers, badminton players and whoever gets curious.
They may not be offering quick-fix solutions but they are selling hard.
This Saturday morning (May 16), when I was here for my walk I spotted twenty odd groups of children and adults playing football, shuttle, cricket and other games.
Joggers and walkers were filling the park,  clusters of people were seen performing asanas and exercises.
And then I spotted a variety of salesmen trying to catch the eye of the walkers –  some were stationed at each entrance gate doling out pamphlets.
A hospital's team (MV Hospital For Diabetes) was running its free diabetes screening camp in the Chess Square area.
Another local hospital team (Billroth Hospitals) was issuing notices of its weekend Cancer Screening Camp – to be held tomorrow.
And outside, on Lazarus Church Road, there were teams offering more health services.
Now, while we are at the park to keep fit and relax, there are many others who seem to tell us that we need help!
– Report and photo by Rajagopalan V.
< Do you agree with Rajagopalan's observations? Or have a comment to offer? Mail – mytimesedit@gmail.com or comment below!!
<< You too can report local stories like Rajagopalan did.