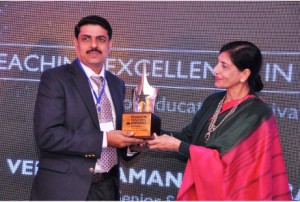 S. Venkatraman, a visual arts teacher at P. S. Senior Secondary School, Mylapore received the 'All India Pearson teaching award' at an event held at New Delhi recently. The award initiated by Pearson India was given for teaching excellence in visual arts.
Venkatraman completed his bachelor's degree in fine arts in 1991 and his master degree in 2001. He joined P. S. School after his master's degree and has been teaching arts at the school for more than 15 years. Under his guidance, students learn clay modelling, drawing, sketching, T-Shirt painting and several other activities.
He is currently a research scholar at the sculpture department of Thanjavur Tamil University and expects to finish his doctorate degree this year. He can be contacted 9444136718.