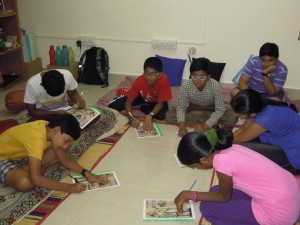 Rekha Murali, a resident of K.B. Dasan Road, is one the entrepreneurs of Anubhavi Gurukulam – a learning center that believes that knowledge should be gained through questioning and practice. The venture commenced its operations in a small way this January.
During the first week of May, they organised a five day workshop for children to help them develop their writing skills using flowcharting, note-taking, summarising and comparing. The students learnt about the great rivers of the Middle East by watching documentaries, reading text material, debating about the relevance of Egypt to today's world and walking through a museum of real artefacts from Egypt.
Rekha and her friends Anusha Padmanabhan and Swarna Lakshmi started this as a pet project for children aged 6 -14 years. Based on the fact that school going children need a strong foundation in language skills and math, they started presenting their ideas by introducing products titled 'Language flu' and 'Numeracy sense'.
These concepts are currently achieved by one-on-one classes. Children also learn through theme based workshops which focus on learning some essential writing skills such as report-writing.
The center is located at Eldams Road. Ph: 9840236063, 9884652455.