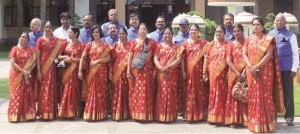 Raja Rajeswari, a resident of Mandaveli and the conductor of Bank Employees Art Troupe (BEAT Choir) is a proud woman. The choir she conducts won two silver diplomas (In two categories – mixed choir difficulty level II and folklore) at the 4th Vietnam International Choir Competition – Hoi An 2015 – organised by the Interkultur Management GmbH, Germany and the Government of Vietnam recently.
More than 49 choirs from 15 countries including Germany, Australia, Indonesia, Malaysia, China, Hong Kong, Finland and Korea took part in this competition. BEAT was the only choir from India.
About 25 men and women dressed in crisp Indian costumes sang Tamil, Hindi, Marathi, Bengali and Malayalam songs. The members were also given an opportunity to sing at the opening ceremony.
The BEAT Choir was started in 1991 by bank employees. Raja Rajeswari, a student of choir guru M. B. Srinivasan, was then roped in to lead the group. She says, "We have students as young as 22 years to senior citizens as old as 70 in our group. We sing songs on women's liberation, communal harmony and patriotic and environmental songs in 14 different languages. Membership was initially restricted to bank employees, but it is open to all now. Anybody who is interested can contact us and we will train them".
She takes classes at Oxford School, T. Nagar every Sunday at 3 p.m. For details contact 9884180311.