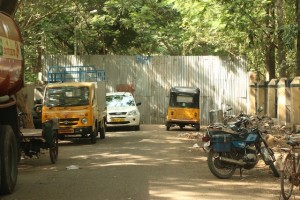 The good run of the Tamil film ' Demonte Colony' which is loosely based on the history of the colony by the same name, located off TTK Road and St Mary's Road is drawing a large number of people to this colony, abandoned many years ago.
This development has led the managers at the Catholic Church with its headquarters in San Thome to shut off all the streets but one leading to this colony. The one street open now leads to the public park where many people go for morning and evening walks.
Touted as a horror film, DeMonte Colony does not evoke the jitters and leaves you cold in the theaters; in fact often the audience laughs at the light scenes and predicament that the actors are in. It also has a story that is thin and stretched far too long.
It is based on the hearsay that ghosts haunt this colony because of the dreadful events that surrounded De Monte, a Portuguese merchant who was once one of the richest in Madras in the 19th century.
He had a large bungalow in the Alwarpet area and when he passed away he left his properties to the Church which developed the colony along TTK Road and rented it to a private company for its executives.
Once the tenants vacated and legal issues bound this real estate, the houses fell into disuse, vegetation grew wild and the area lives in the dark at night though it is a leafy, green and quiet area at daytime.