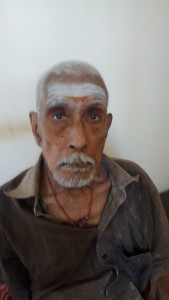 S.YEGNA VISWANATHAN, (86),  (Retd. P.A to Asst.Director of Animal Husbandry) of Periyakulam  passed away on May 25. He was a resident of Mandavelipakkam for more than 28 years. He had served in Madurai and Ramnad Districts before moving to Chennai in 1987 after his retirement. He is survived by two sons and a daughter , daughters-in law, son-in-law  and grandchildren. His family can be contacted at  9789980597, 9486449008. He was a resident of New.No,47/1, Old No.22, Veda Graha,  5th Trust Cross Street.

M. S. Sadasivam, 87, passed away on May 21. Sadasivam was born and brought up in Mylapore. He studied at P. S. School and then completed his college education at Loyola College. He started working for AIR a year after graduation and worked there till his retirement in 1988 as Station Director.
'Sadasivam's lineage can be traced back to Saint Thyagaraja' says his son. We are direct descendants of the saint's brother. Appa also used to sing very well. He was well known among top music artistes of his days like MLV, Maharajapuram Santhanam, Balamuralikrishna to name a few'. Sadasivam is survived by his four sons. Contact the family at 9952982668, 9442631153.