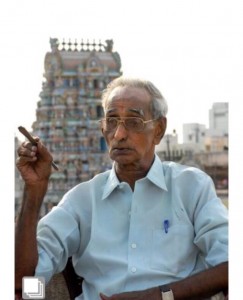 N.K. RANGANATHAN (fondly remembered as 'ART' Ranganna) passed away on May 23. He was 88. Ranganathan's life was dedicated to creating sets and providing lighting for dramas. He worked with tamil drama troupes such as Ragini Recreations, Ennessen Theatres, Ina Theatres, Sri Theatres and with many directors and artistes like V. S. Raghavan, K. Balachander, Major Sundararajan, Sreekanth and more.
Here is a tribute written to him by his son R. Muralidharan.

Ranganathan was born and brought up in Mylapore, in his house opposite to Vedanta Desikar temple. The house, more than 120 years old, is now a heritage building. He attended PS School. After his graduation, he started working for South India Timber company as an accountant. He rose up in the ranks to become the Manager.
All along, Ranganathan was very interested in drama and theatre. With his father, he would watch the English plays performed by foreign troupes visiting the area. He was drawn to the life like sets in English plays. This inspired him to start his own theatre setting group. It was not a very lucrative business, and he got a leg up when his childhood friend and theatre artist V. S. Raghavan commissioned him to do the sets of his play Sathurangam – based on the English play Someone Watching.

His sets were designed with great creativity and aesthetics and earned him standing ovations every time the curtain was lifted to reveal the stage. Most notable among his sets are the single-set stage for Sathurangam, the portrayal of early morning life in a multi storeyed apartment for K. Balachander's Ethir Neechal and the revolving stage set for Jaishankar's Jai Theatres Ninaivu drama.
Along with his brothers, Ranganathan also managed a stage lighting company. This was the means of livelihood for him. Stage-set design was his passion and he did not accept any kind of remuneration for designing the sets.
But with the decline of demand for dramas and the onset of movies and television, Ranganathan found it difficult to make ends meet. Then, it was K. Balachander who helped him by making him the manager of his Min Bimbangal production company. He was with Min Bimbangal until retirement in 2010.
Ranganathan is survived by his son Muralidharan. Contact him at 9841140350.