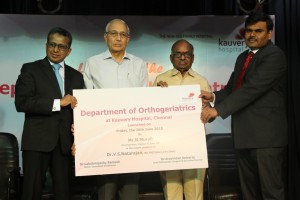 An orthogeriatrics department, to provide comprehensive orthopaedic care for senior citizens, was launched by Kauvery Hospitals, Alwarpet at an event held on June 26 at P. S. School, Mylapore. The facility was declared open by N. Murali, co-chairman, Kasturi and Sons Ltd and geriatric specialist – Dr. V. S. Natarajan.
The 12000 sq. ft facility will house 15 exclusive in-patient beds, amenities like low level cots, bathrooms with grab bars, spacious corridors for physiotherapy/rehabilitation and advanced medical equipments like the Dexa Scan. The department will be headed by orthogeriatrician Dr. Aravindan Selvaraj.
As an inaugural offer, the hospital is now offering an arthritis screening package for Rs. 750 and a Dexa Scan at Rs. 1500. The offer can be availed on or before July 31. For details call 9025116293.