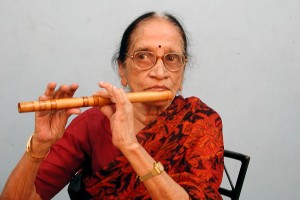 N. Keshi, renowned flautist, passed away on June 14. Her nephew Brigadier V. Mahalingam writes a few lines about her.
Keshi was born in Madras on 10 March 1918. Her father T. S. Vaidyanatha Iyer was a lawyer and her mother was a housewife. She started learning vocal music from the age of five at Nagapattinam. When the family moved to Tanjore, she developed an interest in flute and started learning from Pandit Subramania Shastri.
In her days, women were not encouraged to play instruments or sing. But Keshi was extremely keen and interested to learn to play the flute. Seeing her prowess in the field, her father encouraged her. When she got married, her husband P. N. Narayanasamy, who was also an ardent lover of music, encouraged her and did not let her give up her learning.
When she moved to Chennai, she learnt from Musiri Subramaniam Iyer. From him, she honed her techniques and also learnt new kritis.
She started her professional career as a flautist under the guidance of maestro T. R. Mahalingam (Mali). With him, she played numerous duet concerts – the only female disciple of his to ever do so. Subsequently, she also received music lessons from T. Brinda. Her thirst for learning was insatiable – she never gave up learning all through her life. She has also played with accomplished artists like Kunnakkudi Vaidyanathan  and Guruvayoor Mani.
She was the first lady to give flute recital in Carnatic style at the All India Radio (AIR) after it came into being. She has also performed in Chennai Doordarshan as well as Delhi Doordarshan. She was a A Grade artist in both AIR and Doordarshan.
Widely traveled, N. Kesi has performed in a number of countries in Asia and Europe. She has also played in the orchestra for Bharata Natyam recitals of Rukmani Devi Arundale and Kumari Kamala. She has also recorded a number of gramophone records and audio cassettes. Music labels HMV and Sangeeta published her music. She was a visiting professor in Tamil Nadu Music College. And she has been a judge for many concerts and competitions in AIR.
Her flute students include Vasanthi Shekar, G.Sridhar, Navin Iyer and Kaushik.
N. Kesi was honoured by the Tamil Nadu State Government with the Kalaimamani award in 1972. Sri Sankaracharya of Kamakoti Peetam honoured her with the Sankaracharya Award in 1996.
She was awarded the Sangeeth Natak Akademi Award the highest Indian recognition to practicing artists in 1997 for Flute in the Carnatic music instrumental category.
Contact her family at 9810633579.