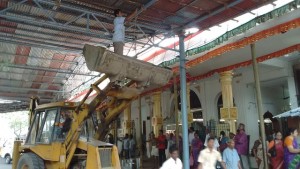 Chennai Corporation began to dismantle a massive metal canopy which had been erected across Venkatesa Agraharam Road by managers of Sai Baba Temple here. Staff said they resorted to this action after the temple managers failed to respond to a notice asking on what grounds the temple had erected the canopy and why it had used public space in a  busy section of the road.
Devotees said that the canopy had come up a few weeks ago ostensibly to provide shade to the stream of people who visit the temple during the day when the temperature is high and the heat stifling.
In the past, this temple's managers have slowly encroached on the pavement and road – it set up a washing font and a chappals stand on the pavement. It then set up dividers to create queues on the road itself, thus affecting traffic flow. It went on to use more dividers to discourage motorists from moving towards the temple entrance and facilitate flow of devotees. This affected the traffic at school hours.
Many Mylaporeans have complained to the local police and to the Corporation. The former seem to have kept mum. Now, on Thursdays the roadside is occupied by hawkers. Though traffic is diverted via the Canal bank on Thursdays, the chaos here messes up the life of many people.
Activists charge the temple managers of being high-handed and of flouting all civic rules to meet the needs of the temple and its activities. They wonder why action is not taken against they temple for encroaching on pavements/road.
Local Corporation officials now seem to be acting on plaints.