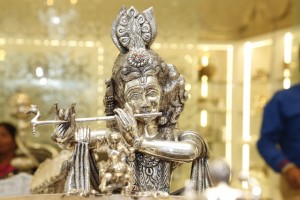 V. M. Street now boats of a prestigious store that showcases the best in silver ware. This afternoon ( July 13), Silver Emporium Private Limited [SEPL], one of the largest names in silverware and renowned for its hallmarked silver articles and silver jewellery, opened its exclusive showroom in Chennai at this Mylapore address ( behind Yellow Pages offices).
Silver Emporium says it intends to sell 92.5 International Standard Silverware at attractive prices and provides a lifelong Buyback Guarantee for all its products. 
The Mumbai-based company has presence in Bangalore, Hyderabad and Jaipur and state-of-the-art manufacturing facility in Jaipur to process 300 kilos of silver a day. SEPL will launch fashion jewellery and accessories later this year to explore new opportunities in these segments.
Mr. Rahul Mehta, managing director, Silver Emporium says his company is employing master artisans from rural India to make traditional silver masterpiece articles and jewellery. He adds, "The average consumer will benefit from the lower price of silver compared to gold. Besides, silver both as bullion and as silverware are excellent savings option for the middle class households".
Silver Emporium was found in 1981 by Kantilal Mehta. Today, it is an ISO 9112 certified company based out of Mumbai, and is one of the largest manufacturers and exporters of silverware and silver articles. The company specializes in a vast array of silver products: from hollowware and dinner sets, to medallions, desk accessories, coins, etc.