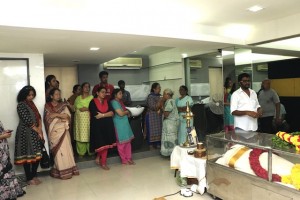 Celebrated film music director M S Vishwanathan passed away at about 4.15 a.m. on Tuesday morning, July 14. He had been ailing for some months now and was in and out of hospitals. The end came when he was being treated at Fortis Malar Hospital, Adyar. The body is now kept at his residence on De Monte Street, San Thome for people to pay their respects.
As news of MSV's death spread, people from the film world visited the residence. Playback singer Vani Jayaram was seen at about 9 a.m. A steady stream of fans also came by.
MSV was 87. His fans were looking forward to him at a birthday event some weeks ago but he had just then got back from a city hospital and was resting.
Till recently though he dropped in at a few film events.
He lived in Mylapore- San Thome area for many many years. The story goes that singer S P Balsubramaniam and director Ilayaraja would stand at Luz Circle to watch MSV drive off to the Kodambakkam studios in the 70s.
MSV, alongside Ramamurthy is known around the world for composing some of the most memorable, popular and hit songs for cinema, especially Tamil films. They are evergreen and played on air and at homes to this day.