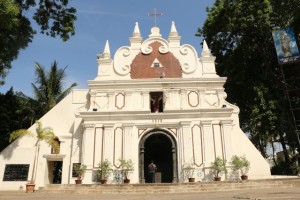 The community at Our Lady of Light Church in Luz, locally known as Luz Church or kattu kovil ( once located in scrub vegetation) is preparing to celebrate a milestone – the 500th year of its foundation. Believed to have been built as a simple place of prayer by European missionaries who did so in thanksgiving to Mother Mary for saving them from a storm at sea, this church is said to have been built in the early or mid-16th century, making it the oldest church in the city.
Fr Peter Thumma, the new parish priest here says the year long celebrations with start on August  6 this year and end in August next year. The congregation is hoping to invite a cardinal to launch the celebrations.
Meanwhile, work is to start on repairing this heritage place which has been maintained fairly well without major changes and large scale renovation.
Over 500 families make the congregation here.