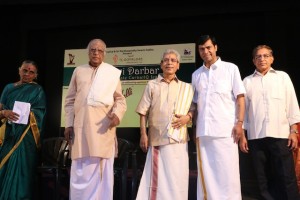 The three-day Pallavi Darbar fest opened on Sunday evening at MFAC sabha, Mylapore. The fest was opened by vidwans Chitravina Narasimhan and P S Narayanaswamy and vidushi Suguna Varadachari ( they are seen in this photo with vocalist K N Shashikiran and the Sri Parthasarathy Swami Sabha secretary.
The fest focuses on pallavis in Carnatic music.
The fest continues on Monday and Tuesday at Bhavans, Mylapore.
More at – https://www.mylaporetimes.com/2015/07/focus-on-pallavis-in-carnatic-music-lec-dems-concerts-from-today/