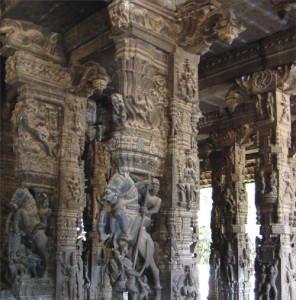 Apparao Galleries is hosting a series of talks on Kanchipuram temples at their venue in Leela Palace Hotel, R. A. Puram, each month from July till Dec.
Each month will cover a different temple of Kanchipuram. The focus of these talks will be to go beyond religion, and to understand and place the art and architecture of these temples in their cultural and religious contexts.
Following each of these talks, a visit to the temple sometime in the same month will be organised. This is an option to those interested. This will be chargeable while the lectures are free. Dates for this will be circulated each month prior to the lecture.
Listed below are the Kanchipuram temples that Dr. Chithra Madhavan will be talking on:
3rd July/Talk One: Varadaraja Perumal temple. Visit to the temple – 5th July (Sunday)
12th August/Talk  Two: Ekamranatha and Kamakshi temples. Visit to the temple – 13th Aug (Thursday)
September/Talk Three: Kailasanatha temple
October/Talk Four: Vaikuntha Perumal temple, Ulagalanda Perumal temple, Yathokthakari Perumal temple and Ashtabhuja Perumal temple
November/Talk Five: Pandava Doota Perumal temple, Pachaivanna Perumal temple, Pavazhavanna Perumal temple, Deepa Prakasar temple
December/Talk Six: Onakantan Tali temple, Anekatangapadam temple and other small Shiva temples
For dates and more information, call 9941012382.