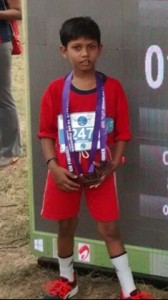 7 year old M. V. Sainathan, a class III student at P. S. Matriculation School, Mylapore, was the youngest participant at the Dream Runners – Half Marathon held in the city on July 26. He completed the run in one hour, 22 mins.
Sainathan, a resident of Vedanta Desikar Street, Mylapore started preparing about two months before the event. He also learns karate and this helped him complete the marathon, says his father M. Venkatesan.
He can be reached at 9952040315.