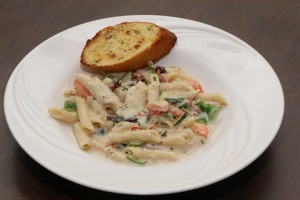 If you want to have a good meal with minimum fuss of a fancy restaurant, try The Pasta Bar Veneto on Dr. Radhakrishnan Salai. It is a branch of the popular eat-out at T Nagar. It has been open for a few months and offers a wide range of Italian dishes.
The diner is designed for food delivery and take-away customers. But you can dine-in too for lunch or dinner or stop by for snacks anytime of the day.
The menu is detailed, offering many choices of starters, soups, main course pasta dishes and pizzas. There are salads, pasta specials and sandwiches too, enough to suit every palate. Veggies and non-veggies alike have a nice selection of dishes to try.
Try the arrabiata pasta or the pesto-based pasta dishes. Garlic bread and pizzas are also very tasty. The desserts are a must try.
A portion is good for just one person; bear this in mind when you dine out as a group. Service is good for dine-in customers, although a little slow; the staff is courteous.
Open from 11 a.m. to 11 p.m.
For details, call 42037358. Address: 100/1, Dr. Radhakrishnan Salai, Mylapore.