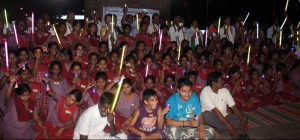 68 torches were lit to mark the completion of 68 years of independence at the 'Freedom at midnight' event organised by Gandhian Integrated Forum Trust near the Gandhi Statue at Marina Beach from 11 p.m. on Aug 14. The event which went on till about 3 a.m on Aug 15 was dedicated to gandhian Nirmala Deshpande.
The event started off with a prayer by the students of SRS Sarvodaya Girls Hostel and Ramakrishna Mission Residential School. Inter religious prayers by Rev. Sam Rajkumar from the Bible, Janab Iftekhar Hasan from the Quran and Bharathwaj Sastrigal from the Vedas was next followed by an anthem on Dr. Abdul Kalam composed by J. S. Maris Vijay of Miracle Waves.
The programme ended with the vote of thanks by P. Maruthi, managing trustree of the trust, followed by the national anthem.