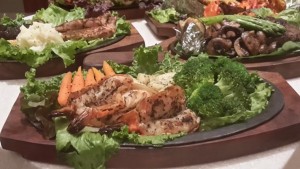 STEAK & SIZZLERS
Like steak? Then, check out the steak and grills festival going on at Above Sea Level, The Raintree, St. Mary's Road. Sample dishes like Indian kebeb sizzler, sizzling refried beans and jalapeno quesedilla, chilli rellenos and more. For dessert, try sizzling chocolate walnut brownie with chocolate hezelnut sauce, sizzling gulab jamun and more. The steaks and grills fest is going on now, till Aug 30. For reservations, call 42252525.
CRAB FEST
The Leesa Palace is offering a menu filled with different types of crabs – soft shell crabs, black crabs, Alaskan crabs to name a few. Try the appetizers like crab meat hydranges, panko  encrusted ball or crabmeat and prawn, crabmeat asparagus ginger chilli egg soup. For the main course there is Singapore chili crab, crab claws in sweet and spicy sauce and more. The fest is going on now, till Aug 30. At The Leela Palace, Adyar Seaface, M. R. C. Nagar. Ph: 33661234
GRILLS AND STEAKS
Like Steak? Check out Duchess restaurant. On the menu are various grills and steak options. In the grilled section, try grilled lobster, oven roast chicken, grilled pomfret or grilled exotic vegetables. For the steaks, choose from Mint chicken steak, Mexican beef steak and more. Baked dishes are also available, like, baked crab mornay, jumbo prawns and more.
At 84, R. K. Salai, Mylapore. Ph: 28111128.