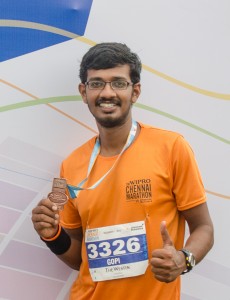 S. Gopinath is a runner and a cyclist. What began as a quest to reduce weight has now become a passion for him.
He has a degree in Mechanical Engineering from Anna University. After working in his field of study for a few years, Gopi took a break from work. He took up running during this time, initially with groups and for small distances. Gradually increasing the distances, he now has a 50 km run and seven marathons under his belt. In the dream runners marathon, that was conducted recently, Gopi was one of the pacers.
While training for running, Gopi was pulled into cycling, mainly as a cross training for running. That led to randenneuring – self supported runs, where the cyclists tackle distances greater than 200 KMs in specific times. When a randonneur completes a 200KM, 300KM, 400KM and 600KM run in one year, they become a Super Randonneur. Gopinath was a Super Randonneur in 2014.
This year, 12 randonneurs from Chennai are part of a team that is participating at a run in France – 1200 KMs in 90 hours. Gopinath has plans of this run in his mind.
Gopi enjoyed working with Chennai Runners, helping them organise the marathon that was held recently. He now works at running lab in R. A. Puram. You can contact him at 42066463.