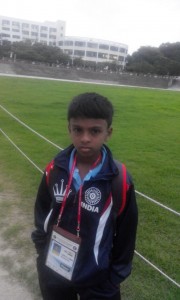 Abinandhan .R started learning chess when he was three and a half years old. He has played in several competitions in state and country level. He was the district champion at Chennai when he was seven years old. He recently represented India in the Asian Youth Chess Championship held at Korea and was placed 8th in the under-10 Category.
In 2014, Abinandhan took part in the National level championship and was placed 6th. This won him a spot in the team that represented India at the 2015 Asian Youth Chess Championship. Participants from many countries in Asia took part in the championships, which were conducted in Aug 2015.
Abinandhan is a student of class V at Chettinad Hari Shree Vidyalayam. He enjoys his studies too and plays badminton during his spare time. Contact his mom Sujatha at 9444069964.