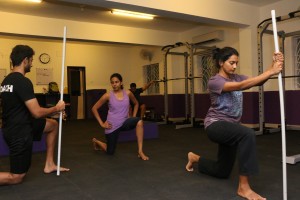 Fitness – that is the buzz word. And lots of places hold out offers and services. A new facility at Alwarpet, Strength System, seems to be different.
This gym is the vision of three youngsters – Prashanti Ganesh; Sandeep Achanta and Chezian. E. They are passionate about staying fit and also enabling others to do the same.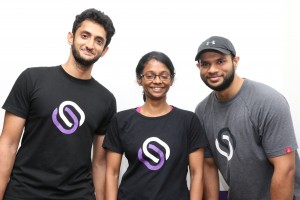 Prashanthi was a journalist before taking to training full time. While writing a story about the workout group called Quad, she was hooked and joined them for a workout session. She enjoyed it so much, that, when she took a break from work, she joined Quad as an intern and never looked back.
Sandeep was a regular at his local gym. He was introduced to Quad by his brother. After a few sessions working at Quad, Sandeep joined it as an intern and worked part time.
Chezian recalls his childhood. "I was an overweight kids," he says. "I started working out and training to lose weight and it became a passion for me." The three of them met at Quad.
At this new new gym, there is no clutter of weights, no huge equipment, gleaming in the soft lighting. It is an orderly place.
The principles of the gym are based from personal experiences as well as research done by the team. In addition, are ideas from trainers in the West.
Prashanthi and Sandeep traveled to the US for two months, covering 19 cities. During the trip, the duo met with coaches and trainers, attended workshops, did certifications and mentoring programs.
Prashanthi explains the concept – when people think of a workout, they right away focus on a treadmill or aerobics or lifting weights. They don't figure out what would suit them best, or how to enable their bodies to take to this workout. Only when the muscle groups can handle the exercise, will it be effective.
So when someone comes here for the first time, we ask them to do a set of breathing and strengthening exercises. Only when we help them correct their breathing and get the muscles prepared for the workout, do we even begin the process.
Sandeep continues – "We have a strength and conditioning facility where poeple can train. There are organised classes where people can work towards their specific goals."
Chezian adds, "We can work with people one-to-one. We help them find a balance between what they need and what they want."
The gym is located at No.5C, Sriman Srinivasan Cross Street, Venus Colony, Alwarpet. For details call 9884753314, 9884675583.
Sidebar:
UNIQUE FEATURES –
< Strength and Conditioning class – semi private class / working with an instructor.
< Principles Class – involves basic human movements (squat, crawling, rolling).This serves as an introduction fitness
—–