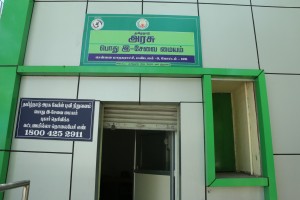 More than 150 e-Seva centres across Tamil Nadu were recently inaugurated by the chief minister Dr. J. Jayalalithaa. The Mylapore neighbourhood is also covered by this facility. We present a broad outline of what these centres are and how they can be accessed…
What is e–seva? E–Seva centres seek to provide fast and prompt access to government services and it brings these services to a location that is close to your home. These centres promise more transparency in processing and also help streamline various government schemes implemented through the social welfare department.
Number of counters in Mylapore?
In the Mylapore area, e–seva centres have been opened at several locations. The number of counters and services offered depend on the availability of equipment, the number of people who visit the centre and so on.
Services offered
–  Use these centres to apply for an income certificate, community certificate, first generation graduation certificate, deserted women certificate, nativity certificate and other revenue department services. Applications for social welfare schemes like the chief minister's child protection scheme and Moovalur Ramamirthan Ammaiyar Ninaivu Marriage assistance scheme can also be submitted at these centres.
Future plans –
Soon, people can also apply for a PAN Card, voter's identity card and a police clearance certificate and can pay property tax, water tax and other kinds of taxes. Aadhar cards can also be printed in the near future. Applicants who haven't received their Aadhar card, but have applied online, can get their plastic cards printed at this location.
Cost of applying online?
Application cost is Rs. 50 for revenue department services and Rs. 100 for social welfare schemes. Once the certificate is ready, it can be printed at no extra charge.
Where are these centres located?
In the Mylapore area, these centres are located at C. P. Ramaswamy Road, Alwarpet (Behind Shilpi and next to the community hall), Sringeri Mutt Road, R. A. Puram (near the Corporation School), Kamarajar Salai, R. A. Puram (opposite Dharmambal Poonga), the Mylapore Taluk office on Pasumpon Muthuramalingam Road, R. A. Puram (near Greenways Road MRTS Station) and near the Lighthouse on Marina Beach (Behind Amma Unavagam).
Timings
The centres are open from 9.45 a.m. – 5.45 p.m., Mon – Sat. Ph: 18004252911.