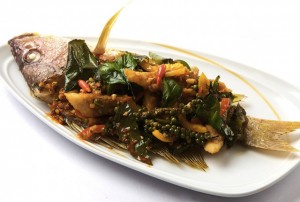 Benjarong restaurant on TTK Road, Alwarpet has launched a Thai seafood festival – it will go on till 4th of October.
A media note says that chef Ram Kumar has specially designed the menu of the festival which consists of a selection of vegetarian and non-vegetarian dishes.
Appetizers include Pla kapong dang tod bai makrut krob (Crispy fillets of red snapper tossed with crispy fried makrut leaves, bird's eye chillies and sweet basil), Pla hor baitaey (morsels of sear fish delicately marinated, wrapped and deep fried in pandanus leaves), and Prathod lom (Prawn wrapped in wonton sheet and deep fried, served with plum sauce).
Apart from soups and salads which are an integral part of Thai cuisine, the menu also includes 'Yang' which is a cooking method where food is grilled with charcoal over low to medium heat.
The festival also features main courses like Senmee pahd namprik pow (Rice vermicelli cooked with choice of seafood in soya sauce), Khao pahd keow wahn (Jasmine rice tossed with green curry paste), Pla nung tom yum (Whole hamour fish steamed with classic tom yum sauce), and Pla kapong dang pahd khing (Fillets of red snapper topped with ginger sauce).
Benjarong is located at No. 146 TTK Road. Reservations for the festival can be made at 24322640.