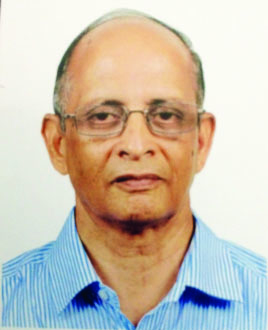 S. KUMBESWARAN, a long time resident of Alwarpet, passed away on Sep 1. He was 68 years old.
His family writes a tribute to him.
S. Kumbeswaran was a person who lived to serve people. He was born in a small village called Melagaram in Sankarapuram district to Srinivasa Iyer, a textile merchant and Patammal. He moved to Mylapore at the age of sixteen  and served Best & Crompton for a period of 38 years.
He was a person who strongly believed in True-and-Lasting Change – "We should not expect others to change, but the change will have to happen within each one of us, seeing which others would change…" Throughout his life, he practiced what he preached and was a simple man imbibed with strong principles.
In his quest for public service, he took up LIC agency post retirement. Throughout his life he touched numerous lives through his commitment to building strong and lasting human relationships based on trust and integrity. Despite his age, he was an epitome of energy and zeal, constantly motivating people around him to push the envelope. He was a strong advocate of entrepreneurial spirit in youngsters.
Kumbeswaran is survived by his wife Revathi, sons Vijay Karthick and Narendran, daughters-in-law Kalpita and Sonali and grand chldren Vasant, Buddha and Vanitha. Contact the family at 68/102, Pushpavanam Colony, Alwarpet. Ph: 9840009153, 8939630844.